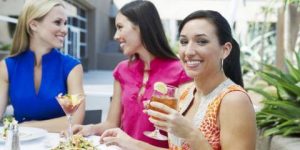 With the first 100% sustainable "smart city," an award-winning golf course, and small-town feel just minutes from downtown Denver, Green Valley Ranch is one of the most sought after places to live in Colorado. Lake Bishop, a local real estate agent with Rhino Realty Pros, knows that the restaurants in Green Valley Ranch are just as unique as the city they call home. No matter what your taste buds are craving, Green Valley Ranch has it.
3 Best Places To Eat In Green Valley Ranch
African Bar & Grill
African Grill & Bar is a laid-back local spot run by a Ghanaian family. Serving up authentic African cuisine, this is the place for daring foodies or comfort food aficionados. Choose from an array of stews, fried plantains, or something off their seafood menu like octopus, pompano fish, and tilapia. Between the delicious food and friendly service, it's no surprise that this is one of the highest rated spots in Green Valley Ranch.
Green Valley Ranch Beer Garden
Real Estate AgentIf you're looking for a fun atmosphere with a variety of local brews that pair perfectly with the delicious food options, Green Valley Ranch Beer Garden is the place for you. Located in its very own park, the GVR Beer Garden has a 7,500 square foot garden complete with bocce ball, croquet, open-air seating, and a covered pavilion. Serving locally made sausages, brats, burgers, and fresh baked pretzels, this menu was created to pair perfectly with any beer selection you're in the mood for.
Moonlight Diner
For classic comfort food, a retro vibe, and banana nut bread French toast, the Moonlight Diner is the place to be. With old-time memorabilia adorning the walls and specialty milkshakes, you'll be transported back in time when you step through the shiny chrome doors of this classic boxcar diner. Between their all-day breakfast menu, chicken fried steak, and meatloaf, Moonlight Diner will have you coming back again and again.
If you're interested in calling Green Valley Ranch home, Foxtrot Realty are your go-to real estate experts. For help in your search for new homes, townhouses or luxury real estate, no one knows Green Valley Ranch better than the top-rated agents at Foxtrot Realty. For more information on what this amazing city has to offer or to check out current real estate listings, visit them online, or call Lake Bishop today at (720) 277-9219.