Green Valley Ranch is in an ideal location, just minutes to Denver International Airport, easy access to downtown Denver and the Denver Tech Center. Two light rail stops have been added making getting to and from Green Valley Ranch extremely convenient. With this being a newer community there is a ton of development going on as well, Pena Station (Panasonics new smart city), the new Gaylord convention center and hotel (the largest hotel in Colorado), and Amazon has just built two facilities within a few miles of the heart of Green Valley Ranch.
Green Valley Ranch Active Homes for Sale
Green Valley Ranch Amenities
Green Valley Ranch is also the home of the award winning Green Valley Ranch Golf Club which hosts the CoBank Colorado Open Championships. This golf course community offers many features from the community recreation center, multiple walking, and biking trails that run along both the golf course and First Creek. Another fun feature is our unique Amphitheater overlooking the Town Center Park Lake! The amphitheater hosts free events every year, multiple movie nights (sponsored by Lake Bishop Foxtrot Realty), a free concert series, among other events.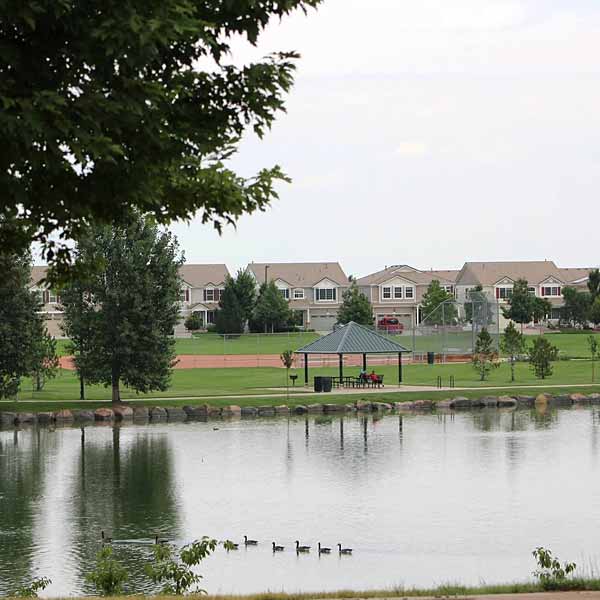 Green Valley Ranch Real Estate Trends
The first homes were built in the early 1980's and were heavily populated by Denver City and County employees. This lead to a large amount of Police, Fire, and Medical personal living here. To this day we have a higher than average population of emergency services and city employees. Another large demographic in the neighborhood is military families due to our close proximity to Buckley Airforce base. It doesn't hurt that the average home price in Green Valley Ranch as of May of 2018 was $345,261.00 making GVR one of the last affordable communities in the metro Denver area.
Recently Sold Homes in Green Valley Ranch