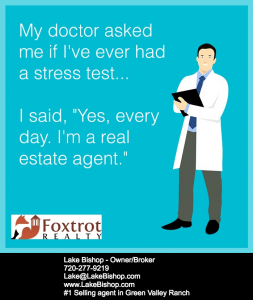 My doctor asked me if I've ever had a stress test…..
I said, "Yes everyday. I'm a real estate agent."
😂
Love my job but it ca be super stressful. That's why having a experienced real estate agent working for you is important. They know how to make it less stressful for their clients. Call me today to buy or sell your home.
Lake Bishop – Broker Owner
Foxtrot Realty
720-277-9219
[email protected]
www.GreenValleyRanchRealEstateInfo.com
#1 Selling agent in Green Valley Ranch
Certified Military Residential Specialist
#denverrealestate #denver #colorado #denverhomes #residentialrealestate #colorado #cityofdenver #coloradorealestate #themilehighcity #denverlove #303 #5280 #denverrealtors #denverrealestateagent #GreenValleyRanch #GVRrealestate #LakeBishop #greenvalleyranchdenver